Steve's (Dr S Feelgood) Aquarium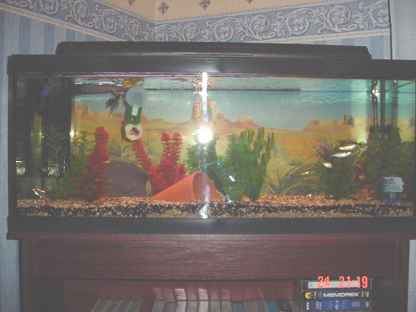 Name: Steve (Dr S Feelgood).

Tank Details: Living world 3ft.

The Fish: 1 Sailfin Pleco (To go back to LFS when too large), 1 Pleco (standard type), 2 Angelfish (Babies), 8 Neon Tetra (Still alive!), 2 Glass/Ghost Catfish, 1 Siamese Fighter (Male Betta Splendens), 1 Blackskirt Tetra, 1 Platy plus 3 almost adult fry, 2 Rainbowfish, 1 Coolie Loach, 2 Peppered Corydoras, 1 Balashark (Silvershark).
Comments: The tank is looking better and better as it goes along. I feed the Plecos on cucumber hanging from a veggie clip which sucks to the side of the tank. I currently use plastic plantation, but am looking to put live ones in soon (after seeing how good it can look).