KennyG's Aquarium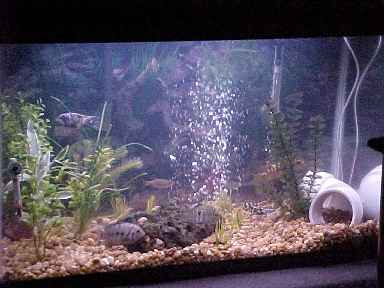 Name: KennyG.
Tank Details: 24 by 17.5 by 14.5 inch.
The Fish: 1 pseudotropheus crabo (bumble bee cichlid) (male), 1 nimbochromis livingstoni (livingstoni), 1 Blue acara, 1 pleco, 1 danio (male), 1 african, 1 convict (male).
Comments: In my 30 gallon I use large natural rocks with a bubble stone in the back. I have a 20-40 gallon regent power filter. And a 150 watt heater. I also have several live plants that the fish love.(especially anacharis, the love to eat) And in the other corner I have an elbow Pvc pipe that the fish love. With a natural river backround.