James Pugliese's Aquarium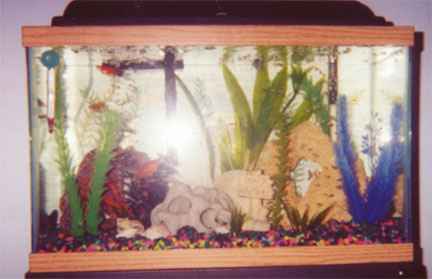 Name: James Pugliese.
Tank Details: 10 Gallon Tank with Oak Trim.
The Fish: 1 Scissortail Rasbora, 2 Swordtails, 2 Neon Tetras, 1 Black Tetra, 1 Silver Hatchetfish, 1 Chinese Algae Eater, 1 Peppered Catfish, 1 Clown Pleco, 1 Serpae Tetra, 2 Bloodfin Tetras, 1 Red Claw Crab, 1 Fiddler Crab, 2 Zebra Danios, 1 Platy.
Comments: I have a regular incadecent hood with a Whisper JR. filter. I have two air stones (1 six inch and a one inch). I have numerous plastic plants,coral, and other misc. ornaments.