Gary's Aquarium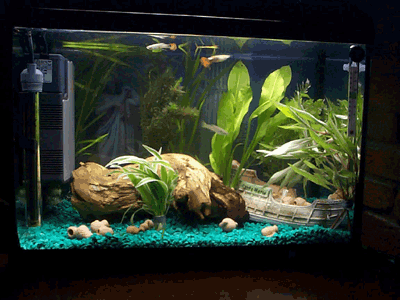 Name: Gary Joyce.
Tank Details: Tropiquarium 55
Length 52cm (20.5")
Width 26cm (10.25")
Height 41cm (16 1/8")
Capacity 10.5 US Gallons or 40 Litres, Heater - Tronic 100W, Filtration - Trio 2000 (sponge, charcoal and biomax)
The Fish: 3 Guppies - 1 male and 2 female.
Comments: This is my first ever tropical fish tank, correction, first ever tank! I have gone through a lot to get this far and I hope that you like what you see. There is a wealth of support and help out there - go get it!