---

---
Emmanuela-George's Aquarium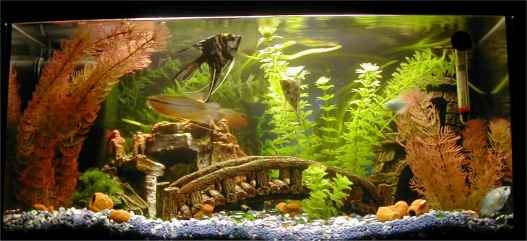 Name: Emmanuela-George.
Tank Details: 60cm x 35cm x 35cm. Standard 60 liters Aquarium!
The Fish: 2 Pearl Gouramis,1 male and 1 female, 1 Dwarf Gourami (Colisa lalia), 1 Honey Gourami (Colisa chuna), 2 Angelfish (pterophyllum scalare), 8 colour Tetra, 2 Black Ruby Barb (Barbus nigrofasciati).
Comments: Filters: EHEIM internal filter 2008 and EHEIM external EHEIM ECCO-2231 and 1 air pump. Soon we are going to bye real plants.
---
To the Form submission
---