Denise's Aquarium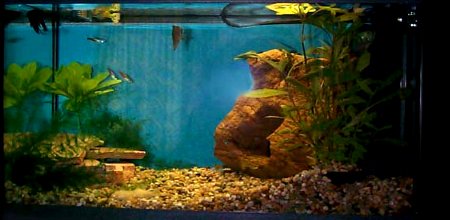 Name: Denise Fyffe
Tank Details: 42x22x33cm; 20 litres capacity; 40watt scuba heater. A nice filter module, with 3 seperate sponge compartments.
The Fish: 2 Powder Blue Dwarf Gouramis, 1 Siamese Fighting Fish, 4 Neon Tetras, 4 Guppies (2 female). 2 Albino Cats.
Comments: I'm afraid the most fancy thing I have is an Interpet air pump!