Dan Sedman (sedman_d) Aquarium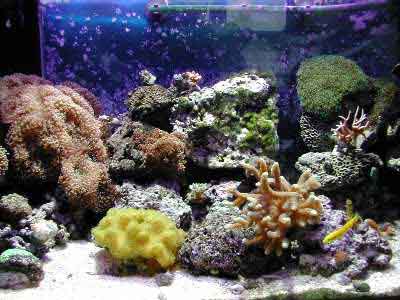 Name: Dan Sedman.
Tank Details: 36x18x15 (30x12x12 sump) reef tank.
The Fish: Psychedelic Manderin, Ghost Goby, Scopas Tang and a Banana Wrass (plus a couple of brittle stars and a peppermint shrimp).
Comments: Emperor 280 Filter and Aquaclear 500 Filter, Two 150 Watt Hagen Tronic Heaters.
Corals: Yellow Leather, Metalic green Star Polyps, Red Open Brain (just off to one side in photo), Lots of types of mushrooms, Bubble coral, variety of SPS, Pussey Coral and a few more I can't remeber.
Lighting: 250 Watt MH with two 25 watt blue lights.
Filtration Live rock, Trickle filter, UV filter, external filter with Rowaphos and a Prism Skimmer.
Circulation: Large return pump from sump (don't know power as greatly reduced by too much piping and the UV filter.) Also 2x600 and 1x900 powerheads in tank.